The Camel Caravan Community Bullying Intervention
The Camel Project is very proud to add a new champion to the mission of bullying elimination. The goal is to increase awareness and educate communities to end this gateway preventable behavior. We partner to implement bullying interventions plans for whole-community wellness.
The Camel Caravan (a.k.a. a 40ft long community advocacy bus) travels around the country to further The Camel Project mission: dedicated to assisting communities, including schools, organizations, and individuals to change the culture of violent and unacceptable behaviors that result in trauma and abuse. It will create visibility and attention on a community seeking a "go big or go home" statement for a healthy environment. The Camel Caravan can create a huge impact, and build momentum and awareness about bullying and other unwanted behaviors and activities. The community as a whole will take control and develop a consistency of vision for the community.
Why a 40ft Vehicle?
Why not? The impact and optics of a 40ft rolling billboard will capture the curiosity of the community. A Caravan appearance causes a buzz and becomes a catalyst for a community outreach event to engage at-risk youth in under-served communities.
During on-site visits, The Camel Caravan is self-contained and carries its own 120-volt electrical generator and does not need to be tethered to outside power. It carries an exterior HD television or it can use its modern HDMI data projector and screen for outside presentations. There also is a 23 ft long retractable awning mounted on the vehicle to provide shade or in case of inclement weather.
Want to read a detailed mechanical and feature description of The Camel Caravan? Click here.
Who will benefit from a visit by The Camel Caravan?
The overall community benefits from a visit: civic organizations, businesses, schools, religious centers, and residents.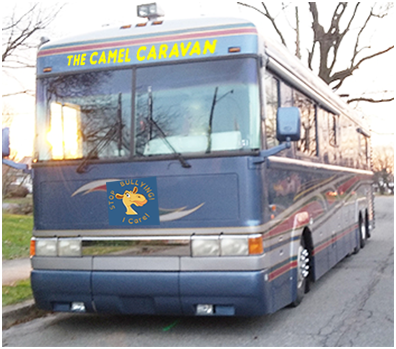 Does your company engage in corporate social responsibility (CSR) and corporate giving? In today's marketing customers are aware of corporations that actively participate in causes that further social good. This pursuit of high ethical standards drives good public relations for the business. Corporate giving generally involves a specific donation that is tax-deductible.
A company is judged on its activities locally. In a global study, 91% of consumers said they were likely to switch to a brand that supports a good cause, given similar price and quality.
If your company is looking make a huge impact that makes a social statement look no further, it is a large vehicle with a DetroitR diesel engine and an air horn to make sure everyone knows it has arrived. Your company can host the Caravan and include a book give-away. Current and soon-to-be customers will gather at your location where you can host a book signing. The media and other community leaders will be invited to participate. Your company will increase its reputation as a supportive leader in the community. We become the spotlight on the issues and are the common thread everyone can have a fun day.
Contact Us Today about Sponsorship Opportunities. Be Part Of The Solution!
Click Here to download our sponsoship packet or
This email address is being protected from spambots. You need JavaScript enabled to view it. to email Pam Gockley for more information.
How we have the Caravan

Use of The Camel Caravan vehicle has been provided gratis to The Camel Project LLC by a generous donor. It is privately owned by the donor and not owned by The Camel Project LLC. Its use, but not ownership, is donated to The Camel Project LLC by the private owner. The Caravan is a non-commercial promotional vehicle only; no Camel Project activities take place within the vehicle and no members of the general public may enter the unit. Please contact The Camel Project LLC if you'd like more information.